Here's a complete guide on how to hang plants from the ceiling. (All without drilling or doing any permanent damage!)
Hanging plants from the ceiling is an innovative (and trendy) way to display your plants.
You might have a small home and want to make the most of your space. Or maybe you're an avid gardener, and all your surfaces are already covered in plants.
And when you hang plants on the wall or ceiling, it keeps them out of the way of kids or pets.

Whatever the reason, hanging plants from the ceiling is a clever trick. You get all the benefits of house plants by bringing nature inside. So, your home will look gorgeous!
But you need to know how to hang plants from the ceiling safely. And you don't want the hassle or mess of drilling into your ceiling. It might even be against your tenancy agreement.
You should make sure that your plants are securely fastened. Plus, you'll need to ensure that the materials you use are strong enough to support their weight.
This guide will share tons of hanging plants ideas. And I'll give you my tips on how to hang plants from the ceiling without making holes or dilling!
10 Tips for Hanging Plants from the Ceiling
Here are some simple tips and ideas for how to hang plants without drilling holes. They're suitable for an apartment or house, no matter how small or big.
So, browse through and see which ideas would work for your home!
1. Choose Your Plants Wisely
Before you start planning how to hang your plants, let's take a step back.
First of all, you should think about which types of plants you want to have in your home.
If you do your research, you'll set yourself up for success. You should look into what kind of light and care the plants will need.
Then, you can decide where to place them. And your plants should flourish as a result.
Some of the best hanging plants are succulents, strings of pearls, and creeping figs. Lipstick plants also look amazing in-ceiling plant hangers. Smaller cacti are another great choice.
If you're new to plant care, don't be too ambitious. Start with hardy plants that aren't too sensitive to their environment. Then, you can add in more sensitive plants as you get more experience in plant care.
2. Find the Right Container for Your Plants
Once you've decided what kind of plants you'll have, it's time to find containers for them.
There are lots of different options out there. But make sure you think carefully!
The containers you'll use will greatly impact how easy it is to hang your plants.
Lightweight options are best for hanging plants. You could go for baskets made from natural materials like straw or wicker. These look amazing, especially if you're into boho chic.
Plastic is another material that could work, as it doesn't tend to weigh a lot. Or, you could opt for lighter terracotta pots – but avoid anything too heavy, such as thick ceramic plant pots.
When choosing containers for hanging plants, drainage holes are another factor to consider.
You don't want your plant leaking all over your carpet or fancy furniture. So, you're better off going for pots without draining holes, just in case you overwater them.
3. Use S Hooks to Hang Plants from a Light Fixture
Let's start with some different ways to hang plants indoors (with drilling or nails!).
Firstly, you could try using S-hooks. These handy little hooks are convenient and easy to use. You can hang them from a rail, a bar, or even from things around your home.
Another idea is to check whether you have any protruding ledges on your walls or around your windows. If you do, that's a great place to hang a plant using an S-hook – no nails or drilling necessary!
For example, you could hook an S-hook over a light fixture. It would work with a standing lamp or a light fixture on the wall. I'm sure there are many other places you can come up with to hang your plants using S-hooks.
And because S-hooks are small, you can hang as many as you like next to each other. If you vary the height of your plants, you can fit more than ever. And you'll have a gorgeous display of your hanging plants.
As always, make sure you keep the weight in mind. You don't want to pull down the entire rail or light fixture.
4. Create Macrame Hangers for Your Plants
Macrame hangers are all the rage right now. And the best part is that you can make them yourself.
It's both a mindful hobby and very useful. Because when you make your own plant hangers, you can save yourself some cash, too!
Creating a macrame hanger involves making several simple knots. You can follow along with this video tutorial to find out how to make your own:
Then, you can hang your macrame hanger off any available hook or handy place in your home.
5. Use Magnets to Hang Your Plants
You might never have considered using magnets to hang your plants. But if you live in a converted industrial building, this option is ideal. It's simple, effective, and very low-cost.
Using magnets will work best if your apartment has metal beams running through it. Then, all you'll need to add are some heavy-duty magnets.
You'd be surprised at how much weight these magnets can hold. But for safety reasons, you should test out how much weight each magnet can support.
Make sure you don't hang anything too heavy. It's better to be on the safe side and opt for smaller, lightweight plants.
This innovative way to hang plants invites nature into your modern, industrial flat. So, you'll get a nice contrast between the organic and man-made elements.
6. Hang Plants from Your Curtain Rod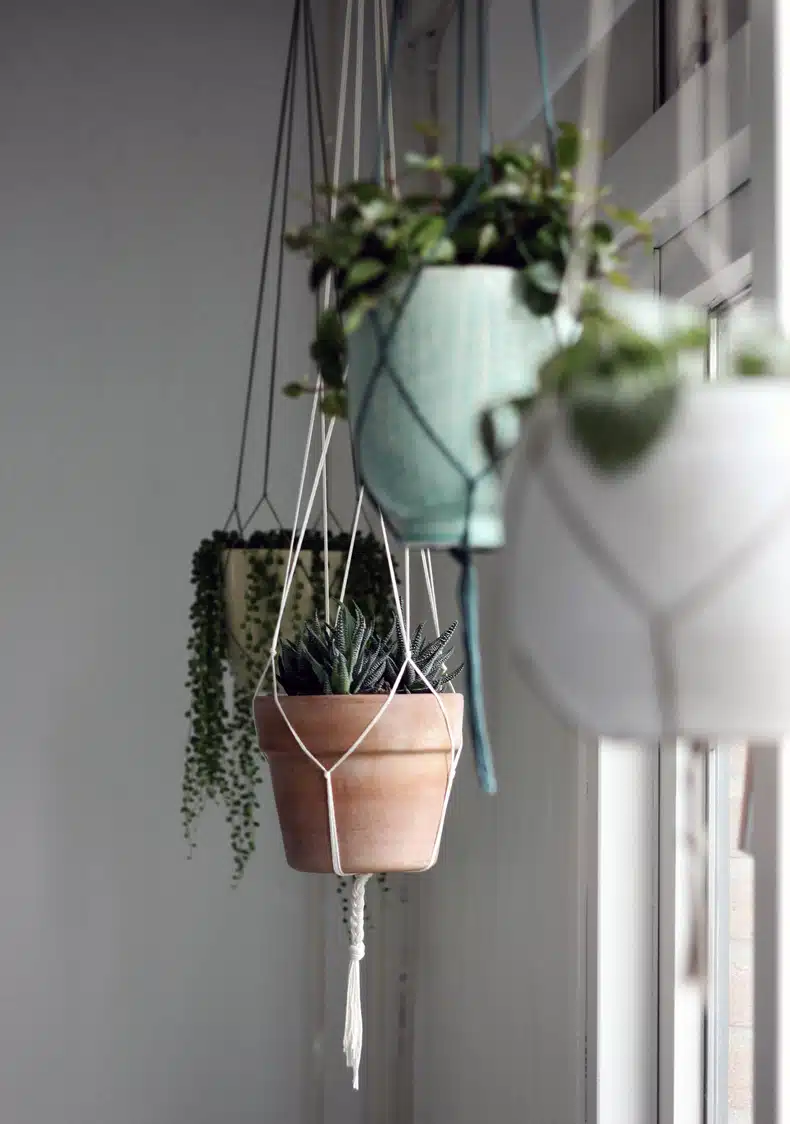 If you have curtains hanging around your home, you can put the curtain rod to double purpose.
All you need to do is hang your plants along the rod, and ta-da! You have a new place to display your beautiful plants.
But do beware! If you hang too many plants on your curtain rod, you may struggle to close your curtains. So, it all comes down to your priorities.
Make sure that you don't overload the curtain rod, either. Lightweight plants like small trailing plants and miniature succulents work best.
7. Create a Hanging Plant Shelf
Another stylish yet practical way to hang your plants is by creating a hanging plant shelf.
It's a perfect solution if you've run out of places for your plants. This way, you can create a new surface for them without taking up any more floor space.
If you hang your plant shelf in front of a window, they get all the sunlight. And it looks amazing, adding real style and flair to your home.
You could make your own shelf from any wood you can find or buy one ready-made.
As for how to hang it from the ceiling, you'll need to attach eye bolts to the shelf. Then, you can use chains or cables to hang it from sturdy hooks in the ceiling.
You can find indoor plant hooks for varying weights. So, make sure you check how much weight the hooks can support before you buy them.
The benefit of a hanging plant shelf is that you can have several different plants together. That allows you to mix and match the plants and create a gorgeous look.
8. Hang Plants from Coat Stands or Hooks
If you don't want to do any DIY, a shortcut for hanging plants is to use a coat stand. It's a quick and easy way to add more greenery to your home.
As most coat stands have several hooks at varying heights, you can have a lot of fun with it. It's a great way to hang lots of plants together. You can get creative and play around to see where the plants will look best.
Another idea is to use a ladder to hang plants from. That can look very rustic and on-trend. You'll just want to make sure that it's secured to the wall so it doesn't all topple over.
Or, you could attach coat hooks to the wall (or maybe you already have some).
Put your jackets in the wardrobe, and use these hooks for plants instead. Then, you'll see them as soon as you come in the door.
There's no reason why you can't have plants in every room of your home – even your entryway!
9. Hang Plants from Exposed Beams in the Roof
If you're lucky enough to have a home with exposed beams or wood in the ceiling, you can hang plants from them.
All you need to do is add a sturdy hook or nail. You could even hang plants from each side of the beam, varying the height and type of plants.
It's a smart way to use the built-in features of your home to bring in more greenery. It also adds a lot of texture and detail when you have plants at different levels around the room.
You could experiment with grouping plants together for an eclectic and luscious look!
10. Hang Plants from Wooden Slats in Your Balcony or Garden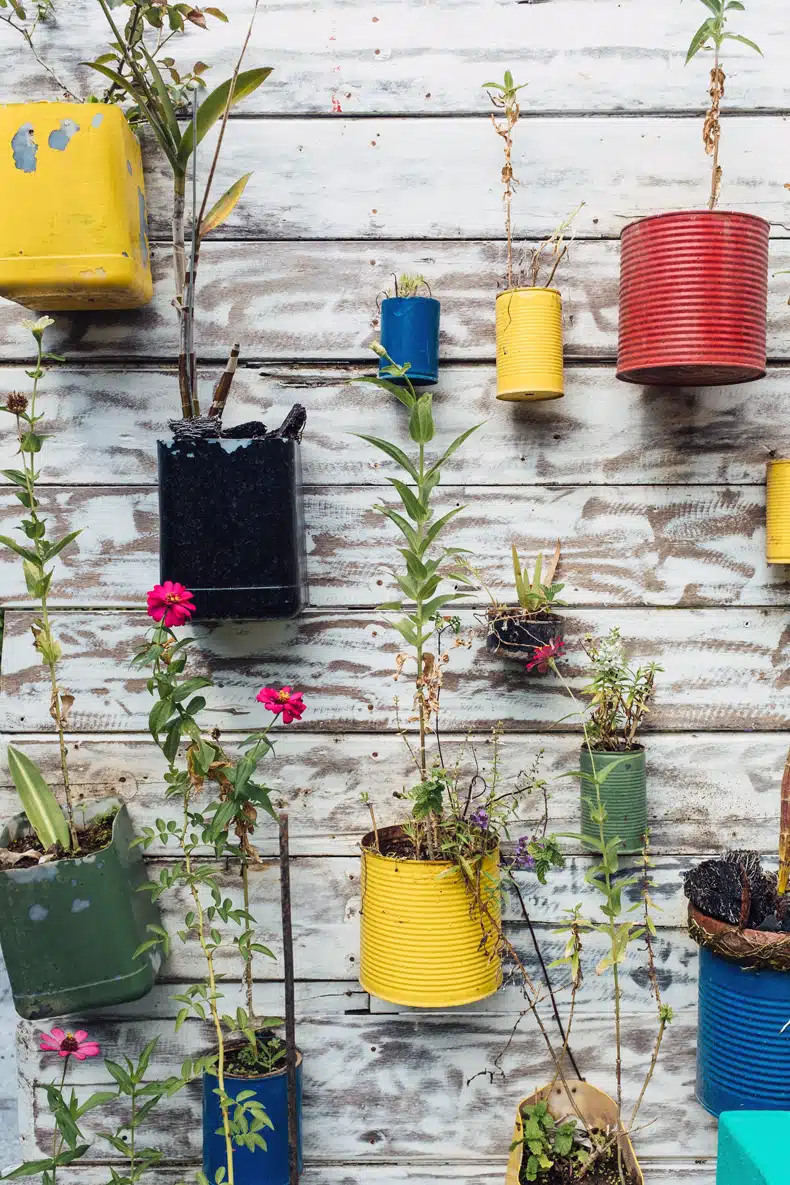 Now, you've got loads of ideas for hanging plants indoors. But don't neglect your outdoor spaces, either!
You could build a pergola to give you even more room to hang plants. That will provide you with limitless potential for hanging plants on your balcony.
So, you could create a real jungle! If you're considering DIYing a pergola, check out this video on how to build a pergola from scratch:
The Wrap Up
Now, you should have loads of inspiration for how to hang plants in an apartment or small home.
Let me know which of these ideas for how to hang a plant without nails appeals most to you! And if you try it in your home, I'd love to hear how it goes.
Follow Quiet Minimal on Pinterest for more interior design and minimalist home tips!